When you walk through the kitchen, do you casually run your finger along your countertop? Is that rectangle that everyone sits around more than just a piece of wood to you?
Every surface tells a story.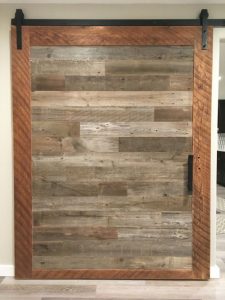 We're proud to partner with Salvage Works to provide reclaimed materials for your home. Salvage Works doesn't just reclaim lumber from old barns. They research the provenance of the material that will be reclaimed so you know that your material isn't just wood that they picked up at their local lumberyard—you learn the story behind the materials.
The Salvage Works philosophy is that their products start with the right material and the right people. When you put one-of-a-kind heritage wood into the hands of highly skilled artists and craftsmen, the result is an heirloom quality product. Salvage Works is deeply invested in the conservation that comes along with reclaiming wood, and approach their business as both woodworkers and environmental stewards. Each piece of wood that is salvaged is one-of-a-kind material that would otherwise be thrown away or lost to the elements.
WOW Wall Cladding is Salvage Works' signature product. Easy to install and with a variety of patinas and textures, WOW wall can change the feel of a room in an instant. You can see the WOW Wall Cladding on display in our Design Showroom in Hood River.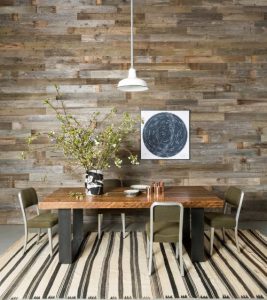 Salvage Works' shelving includes live-edge Blue Pine Shelving that highlights the distinct blue, grey and black grain figuring with a unique exposed bark edge in a single slab design. Sourced from native pine trees that are standing dead from beetle kill, each salvaged slab brings together the beauty of the Pacific Northwest forest with the preservation of wood that would otherwise be lost. All items are made by hand in the Salvage Works wood shop in Portland, Oregon, and custom orders are available.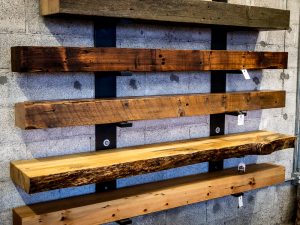 Salvage Works also offers barn doors, island tops created from salvaged lumber, and mantels cut from salvaged timbers.
You can visit our Hood River store to see samples of the material and handcrafted heirloom products, and meet with Erin Barrett, our Kitchen and Bath design expert, to find out how these surfaces can find a place in the story of your home.