For beauty, wood rules, so exterior siding manufacturers have invested heavily in being able to produce a product that looks like wood but might offer additional advantages. Materials in today's residential siding market range from vinyl to fiber cement to real wood and advanced engineered wood. LP SmartSide is the industry leading engineered wood siding product. Their beautiful lines of wood engineered exterior siding and trim products mimic the natural grain and detail of real wood and also are available in a smooth finish. At Tum-A-Lum Lumber, we think that LP SmartSide really is one of the smartest options for siding in Oregon & SW Washington, and to prove it, we're comparing SmartSide with other siding materials. We're pretty sure that you'll agree: It just might be time to consider engineered wood siding.
Benefits of LP SmartSide Versus Natural Wood Siding
If you want wood, LP SmartSide gives you wood… only better. Imagine lengths of Western cedar, for example. The cedar boards require regular cleaning and sealing that can go only surface-deep. Now, imagine a board engineered so that every single strand of wood fiber is encased in protective layers of zinc borate, adhesive resins and waxes so that the middle of each and every piece of siding and trim is just as resistant to rot, insects, mold, mildew and decay as the surface is. Equally important, it looks and acts just like the length of Western cedar.
That's exactly the advantage you get with LP SmartSide's engineered wood siding thanks to its four-component SmartGuard manufacturing process. You have access to all of the looks and styles that wood offers—lap siding, vertical siding, shakes and shingles, trim and fascia, and soffit. Plus, you get them all at a more economical price than natural wood, and you get something that doesn't come with natural wood—a prorated 50-year warranty.
If you want even more savings, you can install LP SmartSide exterior siding yourself. It's light and easy to work with. It cuts like wood, it even comes in traditional 16-foot lengths, and you can use all of the same tools that you already have for working with wood. LP 38 series siding can be installed on studs spaced up to 16 inches on center while LP 76 takes over for stud spacing up to 24 inches on center.
For price, resistance to insects and decay, the look and feel of wood, and a generous warranty, LP SmartSide matches wood and surpasses it.
Benefits of LP SmartSide Versus Vinyl Siding
At first glance, vinyl may seem like a bargain with low-end lines coming in at about $40 a square—that's 100 square feet. However, higher end series can command up to and more than $300 per square depending on style options and performance levels, so comparisons to an engineered wood product like LP SmartSide need to be exacting and detail-specific. Nevertheless, vinyl tends to fall well short of LP SmartSide's capabilities.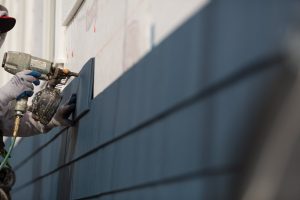 One of the principal issues with vinyl begins with its proper installation. Because vinyl reacts so readily to temperature fluctuations—expanding with heat and contracting with cold—each piece of siding must have at least ¼-inch of free play to help resist warping. However, that ability to move also can allow wind lift to peel lengths of vinyl siding away from a home. If a storm accompanies high wind, your home is now at risk for moisture damage too.
In contrast, LP SmartSide products meet and exceed even coastal high-speed wind requirements, resisting wind-driven rain and standing up to impacts like flying debris as well. And, where vinyl will turn brittle over time, SmartSide's proprietary composition allows for LP's prorated 50-year warranty.
Meanwhile, despite its reputation for needing little maintenance, vinyl nevertheless often fails the tests of everyday living. Position the grill or another radiant or reflective heat source too close, and vinyl warps and melts. Strike it with a stone while mowing or a softball during a pickup game, and vinyl will crack, dent, chip or shatter. Yes, you can replace faulty pieces of siding, but fading and weathering make perfect matches difficult, and unnoticed breaks are perfect entry points for moisture.
Ultimately, vinyl is plastic, and each use or replacement only contributes to the environmental issues associated with plastics—not only in disposing of space-intensive discarded siding but also in the breakdown of micro plastics and the release of pollutants like dioxins, PCBs and phthlates into the environment. LP SmartSide takes pride in making full use of responsibly and sustainably sourced natural resources that are renewable and energy-efficient to create an enduring yet beautiful product.
For durability, everyday living, price, resistance to impacts and wind, and environmental responsibility, LP SmartSide offers long-term benefits versus vinyl's short-term ones.
The Smart Choice for Siding in Oregon
LP SmartSide has committed to engineering a unique wood siding that outperforms its competitors in look, style, durability, ability to withstand pests and rot, and even price. It comes in select stock colors or prefinished, prepped for your own custom color. If you're ready to take a serious look, come visit us at Tum-A-Lum Lumber in Pendleton, Hood River or The Dalles, and see for yourself LP SmartSide's selection of lap sidings, panel sidings, vertical sidings, shingles, shakes, fascia, trims and soffit. There is an exterior siding that looks like wood yet is better than wood. It's an engineered wood, and it's called LP SmartSide.