What's the secret of creating a desirable home—the one that everyone wants? Chances are, that comfortably elegant residence that you so admire is the result of many small projects completed one at a time over time. There might have been an addition or remodel along the way, but often the follow-up details are what make it special and stand out.
The good news is that those periodic updates and improvements are often small projects that are budget-friendly yet can gradually transform a house into an up-scale home with a steadily accruing value. If that sounds like a plan you could embrace, here are some modest yet high-impact projects that can offer a healthy return on your investment and maybe even help to make your house The One.
Make a Stunning First Impression
Replace the front door. The front door is a large part of the curb appeal of your home and truly sets the stage for what people expect when they enter a home. Famous real estate mogul Barbara Corcoran says that people decide whether they are interested in a home within 8 seconds, so you had better believe that first impressions and curb appeal are important when selling your house. Aside from the priceless benefit of curb appeal, your front door—and other exterior doors—may be costing you in energy-efficiency and security. When seals no longer seal, doors no longer align and locks no longer want to lock, guests and prospective buyers notice. With all the weathertight options in wood, steel, fiberglass and wood grain looks, there's nothing like a smart new door to say, "Welcome to a well-maintained home." And if you're replacing the front door, think a bit bigger about how the door works with other things in your home to make that first impression.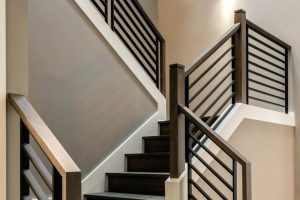 Update the banister. Worn newel posts, wobbly handrails, scuffed and chipped millwork and trim, and damaged balusters in an entryway can make a tour of your home's interior a dated and disappointing one. Instead, set the tone with a banister that proves just how well-made a home can be. You can refurbish, redesign or build out an old newel post with on-point millwork and trims or select a new one. Swap out damaged balusters and dingy handrails for their up-to-date counterparts, refinish them, or administer a glossy coat of trim and cabinetry paint to make them gleam. A solid banister is like a solid handshake. It conveys the feel of a solid house.
Convert carpeted stairs to wood treads. Just one track of soiled shoes can begin ingraining the dirty center line shadow that instantly ages a carpeted staircase. Using a dark carpet only makes for a dark staircase, and that's the last thing you want. Instead, trade carpet for real wood grain treads or Treadz—Shaw's simple answer to adding a finished, stylish wooden cover to a base staircase. They're easy to install, and there's a finish for every decorating style. Plus, you might even be able to repair any squeaks. You can paint the risers a clean white for contrast or finish them in wood grain. The resulting look is elegant, clean and enduring.
Highlight Interior Features
Upgrade interior doors. Doors help to define the areas of a home, so while we often take them for granted, they're important. Light, hollow-core luan doors rarely wear well. Warping, cracking and multiple layers of paint can leave entryways and passages looking tired. Replacements offer amazing variety in panel configurations and glass patterns that add light while retaining privacy. Sometimes, glass doors can be the perfect finishing feature for an area that previously had none at all.
Dress rooms with updated trim. Homes with character often stir us to love at first sight. Combinations of trims, mouldings and painstaking millwork are usually what set these homes apart. High crown mouldings raise our gaze. Baseboards 6 inches or wider convey pure luxury. Between floor and ceiling, the woodwork around windows, doorways, mirrors and countertops makes every view more beautiful, every passage more inviting. Options are endless—wide sills, dentil molding, wainscoting, judge's paneling, cornices, rosette squares, fluted pilasters, panel moulding, friezes and wall niches. A properly dressed home can look complete even when vacant and there's nothing else in it at all, so consider updating or adding trim and moulding to easily add to your home.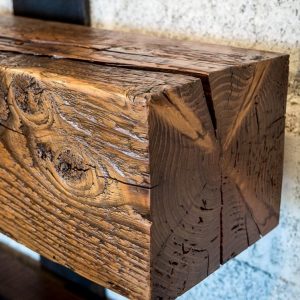 Add focus with a fireplace mantel. A fireplace should add to a room's value year-round, regardless of whether it's alight or still. A beautiful mantel makes an otherwise utilitarian and cold fireplace a furnishing and is another good use of quality trims, mouldings and millwork. You can design element by element, from the top shelf, header and trim to the plinths and legs. To ground large, blank areas above, continue the vertical design with an overmantle to frame a light-reflecting mirror, highlight artwork or camouflage that big-screen television. Even if you only wish you had a fireplace, you can still incorporate the focal elements of a mantel. And our Hood River showroom now carries materials from Salvage Works in Portland, OR. Stop in to see some examples of Salvage Work's materials and to find out what they have available for our home!
Add Stylish Storage
Build in a pantry. We never seem to have enough places to put things in the kitchen, bathroom, laundry room, office, mudroom or any other room. The result is either overflow, clutter or both. Meanwhile, "plenty of storage" is a waving green flag that flies in the real estate multi-lists. To incorporate a pantry, all you need is an under-optimized space, sturdy shelving, anchors and hardware. Finished with some pretty doors and trim, even a shallow pantry can fit almost anywhere yet give floor-to-ceiling storage with no wasted space.
Mount some built-in shelving. The right combination of dimensional lumber paired with millwork, trim and mouldings can make built-in shelving not only functional, but also as beautiful as custom cabinetry—maybe even one of the favorite features in a home. Whether it's flanking showpieces to display international treasures, a ceiling-high haven for books, or easy-to-reach floating planks lined with fluffy towels, shelving has no limits to where it can fit or the styles you can create. The result is a neat home, free of clutter with logical places for the items everyone wants handy.
Design a window storage seat. Those benches making the most of that tricky under-window area invoke wistful sighs, especially when the view outside is compelling. However, window seats don't have to be strictly relegated to under-window placement. Entryways, porches, offices, work rooms and just about any other room can benefit from bench-like storage that keeps belongings organized yet provides a place to sit while sorting, using or donning the handy contents. Designs can use drawers—a great way of making every bit of space count—doors or open shelving. A seat area can flow right into other built-ins like cabinetry, shelving or pantries. If you don't have a window you like, you can easily add one to match.
Expand the Comforts of Home Outdoors
Protect an entry with an overhang. Trying to unlock a door while juggling keys, purchases, children and an umbrella just isn't fun, especially when rain or snow just keeps falling. Standing exposed outside a locked door isn't enjoyable for guests either. Instead, install a bit of roof over that doorway, and you create a transition space where you can fit a key or wait for admittance. Design options are endless, from wall-supported eave-like structures to small porches with a pair of columns. It's an appealing little extra that creates a gracious space for the moments spent outside an entryway.
Extend your home with an arbor. Patios and outdoor decking can be delightful spaces, but it's the vertical features of a hardscape that make it a place you want to be. People actually feel more at ease with something overhead. Arbors are an easy way to create that kind of space while incorporating seasonal-appropriate shade. They can extend out from a bank of windows, rise up to match decking or stand alone. Foundational 4x4s or 6x6s can support nearly any design, and climbing plantings or canvas covers can cast shade in summer yet allow sun to shine through in colder months. A well-designed, well-placed arbor can be like adding a room specifically to enjoy the out of doors.
Solve potential problems with attractive fencing. The right fencing can enhance curb appeal not only by adding an attractive architectural element but also by concealing from view many of the necessary, but distracting aspects of living—things like trash bins, utility sheds or recreational equipment. It can also be a bonus for guests with small children or pets as well as people who simply enjoy quiet time in their own back yard. Fencing doesn't have to surround an entire property—or anything at all. A section of fencing, for example, can serve as backdrop and anchor for a patio, outdoor kitchen or garden area. The key is to select a quality fence that serves its intended purpose while complementing your home's beauty and style.
Small Projects That Increase Home Value
Whether you're comfortable initiating one project a week, a month, a season, or a year, improvements add up to considerably more than the sum of their building components. They increase the beauty, value and appeal of your home.
If you're ready to start a small project—or a major one—to make your home a little more comfortable, a bit more luxurious and a lot more marketable come visit us at Tum-A-Lum Lumber. Let our experienced home improvement professionals at one of our three locations in northern Oregon—Hood River, Pendleton or The Dalles—show you just how easy it can be to transform an idea into reality. In the meantime, explore our website, and maybe you'll discover inspiration for yet another small project—the one that's custom-designed just for you, your lifestyle and what you want your home to be.