Replacing older windows with newer ones can significantly improve the appearance of your home and increase its value. New windows also can make your home more comfortable, less drafty and quieter. In addition to being easier to clean and maintain, new windows can save you as much as twelve percent on your energy bill according to Consumer Reports.
Installing Your New Windows
Unless you are good at DIY projects, you will need to find a good installer. Even the best windows will not look right or perform properly unless they are correctly installed. Most major window manufacturers have their own certified installers and our friendly experts at any one of Tum-A-Lum's locations can help you with any questions you have, as well.
Wood Windows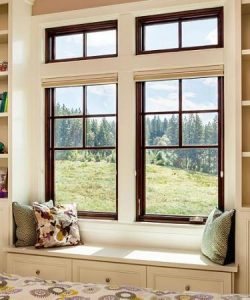 Many homeowners prefer wood windows due to the beauty and warmth they offer plus their flexibility in design. Wood windows continue to be popular due to their exterior architectural detail, natural warmth and beauty and because of the abundance of color choices. Most wood windows are constructed of solid wood, although some may include composite materials. Wood is a strong, light and attractive material. It also is a good insulator which means that wood windows rate high in energy efficiency. Wood also is easy to paint or stain to complement the style of any home, and it can be milled into an almost endless array of architectural profiles. Additionally, wood windows are the ideal choice for restoration projects due to the fact that they are easily modified. With a little bit of care, wood windows can last indefinitely.
Unfortunately, solid-wood windows require more maintenance than other choices. They are susceptible to insect attacks and wood rot, so periodic maintenance is required, including sealing, staining and painting, in order to prolong their life, beauty and performance. Additionally, wood windows usually cost more than other window types.
Wood-Clad Windows
Wood windows can be covered with an exterior coating or shell to make them more durable. This process is called cladding. Clad windows use several types of wood for the window interior, such as oak, maple and pine and can be stained to compliment whatever color scheme you are trying to achieve. Exterior surfaces can be clad in several materials, including fiberglass, vinyl and aluminum. Clad windows are available in a large selection of exterior colors to match your home. Clad windows look and feel like real wood and can be fitted with a variety of hardware. This makes them an ideal choice for homeowners who want the warmth and esthetic effects of wood windows coupled with the low maintenance of more resilient materials, like vinyl, fiber glass and aluminum. The main disadvantage to clad windows is their initial cost, but they can make up for that in the long term with their longevity and reduced maintenance.
Fiberglass Windows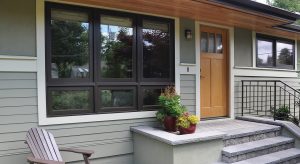 Fiberglass windows make up only a small portion of the overall window market. However, they are gaining a well-deserved reputation because their strength and durability makes them virtually maintenance-free. Fiberglass windows are impervious to water and unaffected by changes in temperature. Additionally, they never have to be painted and are available in a wide variety of styles and colors. Fiberglass windows will not crack or rot, and their frames are stronger than vinyl. They also are paintable and have energy efficiencies even exceeding vinyl windows. Some designs offer the look of a wood window. Additionally, fiberglass windows expand and contract less than those constructed of aluminum. Fiberglass windows are extremely resistant to corrosion from salt air and moisture, which coupled with the frame strength, make them an ideal window for coastal communities.
One disadvantage of fiberglass windows is their initial cost. They are significantly more expensive than vinyl windows—sometimes twice as much. Another drawback is the limited number of colors available for new windows and the fact that some colors can fade over time. Also, fiberglass windows are not usually highly customizable.
Vinyl Windows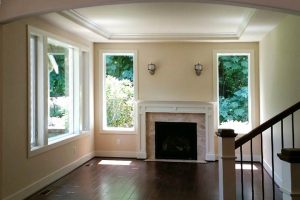 Vinyl windows are usually less expensive than other window types and do not need to be painted. According to the DIY Network, vinyl windows account for more than half of all windows being sold. This is because they provide excellent durability and reliability in addition to their exceptional energy performance. Vinyl is a tough and strong material that is impervious to insects and moisture as well as being rot proof. Vinyl windows are readily available and easier to install than many other window types.
Color selection is limited as well, with white and tan being the primary choices. Some retailers offer a few other colors, such as red, green and gray. Vinyl windows tend to expand and contract, which, if not installed properly can lead to future problems.
Although one vinyl window may look exactly like another, the quality of the vinyl material and construction may vary from brand to brand. This is because different manufacturers have their own recipe for producing the actual vinyl material and their own molds/designs for window construction. Consequently, some vinyl windows may be structurally stronger and more weather resistant than others. Vinyl windows also have been known to warp in extreme heat, plus they expand and contract significantly with fluctuations in temperature. This can lead to a degradation of seals which can reduce their energy efficiency.
To learn about the new windows that you can purchase through Tum-A-Lum Lumber, take a look at our window brands offerings here, or give your local Tum-A-Lum lumber a call!